"la tua casa sul mare" (your home by the sea) Real Estate of Pomonte, a village on the sunniest coast of the Island of Elba, can help you to find your home by the sea.
We propose you a selection of houses and apartments for your summer holidays in the villages of Costa del Sole: Cavoli, Seccheto, Fetovaia, Pomonte, Chiessi, Colle d'Orano and Patresi, or in Marina di Campo or other renowned locations of the Island of Elba.
If you're interested to buy a property or a business, we can propose you a number of houses, shops, businesses for sale in the Island of Elba.
Our Real Estate, located in the heart of the most exclusive coast of Elba Island, will guide you to find the home, flat or business for rent or for sale in Elba that best suits your requirements.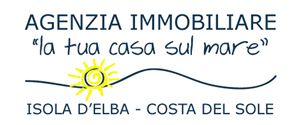 Via degli Oleandri n° 8 - Pomonte
I - 57030 Marciana (LI)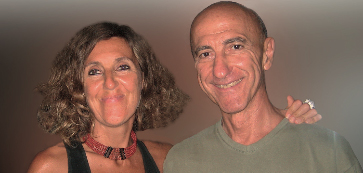 Daniela Lust, owner of Costa del Sole Real Estate, and Luciano Fantoni greet you on their web page!
Some 25 years ago, we decided to come to Elba on a "normal" holiday, or so we thought. And what happened to us is something that has occurred to many people from "outside": the Island entered our hearts, injected its "spirit", and we realized we couldn't do without it anymore.
It casts a spell, with its colours, its scents, its silences. From ever-changing seascapes' shapes and colours, to its mountains, from where the eye can freely turn to the immense extension of the blue sea, until it meets the horizon, silhouetted by the contours of the Tuscan little islands, of Corsica, of the Italian peninsula. And its sunsets, that in this part of the island offer the most intense emotions.
We'd love to share this spirit with all those who wish to part, at least for awhile, from the noise and hustle and bustle of the big city, and from their busy every-day life, and find themselves in the peaceful and harmonious environment that Elba's natural wonders can offer.
Daniela, German by birth and forever in love with Elba, is a Real Estate Agent, with 20 years experience dealing with the rental of private holiday apartments and hotel accommodation. She will find the right flat/villa in the location of your choice, to best suit your vacation needs.
Luciano, born and educated in Genoa, after quite a few work experiences in Italy and abroad, is now a technical freelancer on the Island. He can assist you through the administrative/bureaucratic procedures necessary to purchase a real estate or a business, on Elba.
Between the two of us, we speak Italian, German, English, and French, and will be glad to help you plan your holiday or to find your home on Elba, in any of these languages!